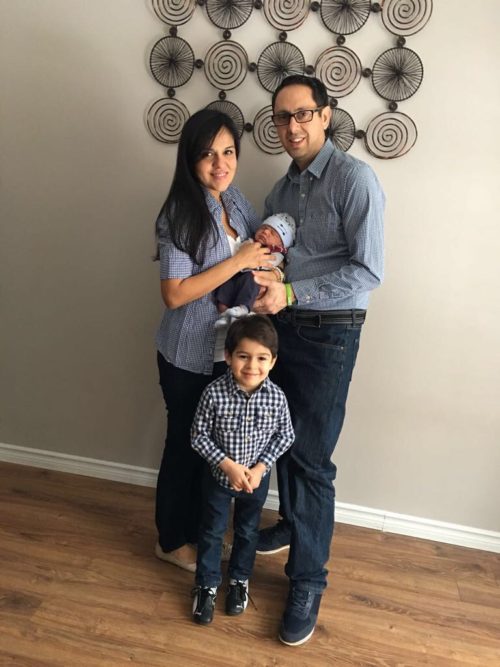 2017 was a year that exceeded expectations for the leaders of Emmanuel Baptist Church East, JD and Andreina Fasolino. The Fasolinos lead a two-and-a-half-year-old church plant reaching the Hispanic population of East Toronto. In 2017, EBCE grew to a congregation size of 60 people, raised up leaders from within the church to engage with the vision, and mobilized the youth of the church to lead the body in worship. In two short years, they have witnessed 10 people follow Jesus through believer's baptism. This is a huge victory since most of the Hispanic population in the area come from Catholic backgrounds and were baptized as children.
JD and Andreina are originally from Venezuela, and before moving to Toronto, they were leaders in a large church of 800 people. Upon moving to Canada, they connected with a Hispanic Southern Baptist church, Emmanuel Baptist Church, who had a vision to plant 20 Hispanic churches by 2020. Emmanuel Baptist Church East was one of five new churches planted in 2015, and they are currently the only Hispanic Southern Baptist Church in the east. JD is a pastor fulltime, and Andreina works in the marketing field. They have a three-year-old son named Daniel Isaac, and recently welcomed a brand-new son, David Andres, on December 28th. Needless to say, JD and Andreina are not getting much sleep these days, but they have a fresh vision for their church for 2018.
This year, they plan to incorporate their church and send out leaders from their body to plant a church in an area they have pinpointed about 30 minutes away. They are continuing to train leaders from within the church to serve underneath their leadership, and they plan to continue engaging with their community. Their church building is just down the road from a welcome center, and they partner with the welcome center to meet new people and help them assimilate into the area. They offer Spanish translation services, mentoring, and financial counseling to those who need it. Once a week, they rent out the gymnasium at their local school and invite the community to play volleyball. EBCE also partners with the Durham Pregnancy Center nearby to help mentor young moms-to-be. Their vision is to be a church who lives out their faith every day of the week, not just on Sundays, and make an impact in the community by practicing the values in the Bible.
As JD and Andreina continue to lead Emmanuel Baptist Church East, please pray that they will find a home to live in and for financial provision, as Andreina is out on maternity leave. Please join us in praying for strength and guidance as they work to reproduce themselves in their core team, and in the new church plant so they can continue to reach the Hispanic population of East Toronto.